Men's blue swim shorts
Men's blue swim shorts have always been a staple in the men's swimwear industry. It's one of the most common colors that you will see on men, and it's also one of the most popular colors for swim trunks or swim shorts. There are many different shades of blue, such as light blue, royal blue, navy blue and even striped in different blue colors. For louder men, they can also go for blue swim shorts with different prints. These prints can be anything from abstract patterns to watermelons or flamingos – there is something out there for every man!
Blue swim shorts
---
Different blue swim shorts
In the swimwear arena, swim shorts have become extremely popular, maybe even king. Gone are the days of swimming briefs or speedos, as men opt to have that look that works well on the beach as well as off the beach. Today, we're going to discuss one of the most popular colors for men and that is the color blue and all the beautiful and versatile forms it comes in. 
Light blue swim shorts
We start our journey today by looking at the boldest choice for the solid color swim shorts – the light blue swim shorts. We can consider this the "pink collared shirt" of colors, as it takes a certain type of man with the right amount of confidence to be able to wear it. One that wants to build an ensemble of confidence, with the right pair of sunglasses. This is definitely a great choice for a bright day at the beach somewhere in southern Europe. Think Santorini or Mykonos, to reflect the brightness of those beaches. After taking a dip into the sea, you can jump right out and walk over to a café for refreshment and still be stylish.  It also works perfectly during the nighttime, paired with a linen white shirt, as you enjoy walking through pretty beach towns. 
Light blue men's swim shorts are better on the shorter side. The statement is already being made with a lighter color, so a shorter cut will only embolden the look and confidence even more. As this is not a shy color, do not be shy with the entire look.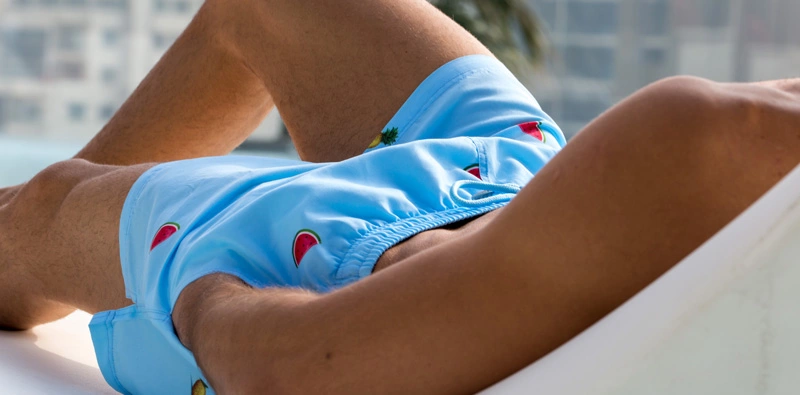 Dark blue swim shorts
This is the safest out of all the blues and all the swimwear we are looking at today. This is one where it is just your standard swimwear you need that works in all situations. It is the one selected because you are going to a place that will have a body of water for you to enter in, but you haven't bought a new pair of swim trunks in years, or cannot find where you stored your last pair of swim trunks. 
With its rich deep colors – it works for all body types, and due to the darker color – works well with those men having different body colors. This is where one does not want to make a statement, just get in the water, or hike the water caves, and switches out of them as soon as they are out of their body of water. 

It's perfect for those hotel pools, regardless of the situation and doesn't require extensive thinking and styling, as the colors are so dark – almost black. The good news – nearly everything goes with black. We're going to take a look at two dark blues navy blue and royal blue  
Navy blue
If you are looking for a simple but muted color choice in the dark blue area – take a look at this military color and go with navy blue swim shorts. Navy blue is a color that shares tones with grey and black, and the stylings that are associated with that. If it was grand enough to be used as a uniform color for the British Navy, it deserves to be selected for swimwear as well. Don't feel that this is for those that are reserved in their decision making. This is a great entry color choice to get a feel for what this color range can offer.  
This is a great option if you don't want just "blue" swimwear. It can work well with any color top as it gives attention to the top, due to its dark tones. It's built just like any uniform color – utilitarian and flexible.
Royal blue
This color is so bright and bold, it holds on its own. It is one of our favorite colors, and works so well in contrasting and bright color areas. Its roots come from mixing the primary color blue with the secondary color purple – which has been historically associated with royalty. 
The result is exactly that royal feel – standing out, being noticed, not needing anything else. It will work with any skin tone, as its vibrancy really shines in the beach setting. Mix this color with the white sands of Bora Bora and you will notice how fantastic you look.   
For a deeper dive into the difference between navy blue and royal blue see this post
Pattern blue swim shorts
Want something more tropical? Looking to go river boating on the Amazon? Headed to a Yacht off the coast of Monaco? Maybe you have a rendezvous at a day club or pool party at a lavish mansion. The best choice in this situation is to go with a more sophisticated patterned/print pair of swim shorts so take a look at the different types that we offer. Remember you're on holiday and that means a time to relax and enjoy your paradise vacation. Express yourself and opt for something that you might not normally wear.
Our Pineapple & Watermelon swim shorts is a customer favorite!
Blue swim shorts with print
These are perfect when you are thousands of kilometers away on some island paradise such as Bali or walking down the streets enjoying the nightlife in Bangkok. These can be a playful addition to your wardrobe and add some cute flavor. Any color and pattern will work, so this is not the time to be shy. Take on big bold pineapple printed shorts, or something cute such as green turtles that are covering your swim shorts. A splash of color on your blue swim shorts can add some fun to them. 
Blue camo swim shorts
Perfect for those that mean business. Those doing water sports such as surfing, or white-water rapids mixed with hiking and camping. When going with a blue and darker color mix, they give that feel that adventure awaits. Beat those rapids, or even go spelunking and go explore some beautiful caves. Maybe scuba diving is on the menu. If there is a sense of adventure in your bones, then this is a must-have when choosing your next pair of swim shorts. On the other hand, when mixing it with a white pattern and a longer length – they can go back to a more playful, printed feel, and start heading towards being board shorts versus men's swim shorts. They tend to look more like beautiful beach waves and can enhance a day of surfing on the Pacific coast in Hawaii. 
Blue swim shorts with stripes
A timeless classic. These are best in a blue and white mix as it adds those pinstripe/seersucker looks that are perfect for those high-class sun-drenched events. These are the type that are perfect with a glass of champagne at those hot day clubs, that shows you have a sense of style and respect for every piece of your clothing. This should be an item that is necessary for every man's swim short arsenal and it should always be either the first or second purchase, as this style will last forever. These tend to look best with a shorter cut, but what is always most important is to make sure you are comfortable with the fit because you will turn heads with the style. 
Read more about striped swim shorts
Conclusion
Ultimately the choice is yours when it comes to men's blue swim shorts, and hopefully, you can see how different styles work in a wide variety of situations. Whether you go with a solid color or with a patterned look, or whether your preference is a men's swim shorts long or men's swim shorts short, you can always find the latest styles here. Our goal is to always make sure that we are at the forefront of high-quality fashionable swimwear.