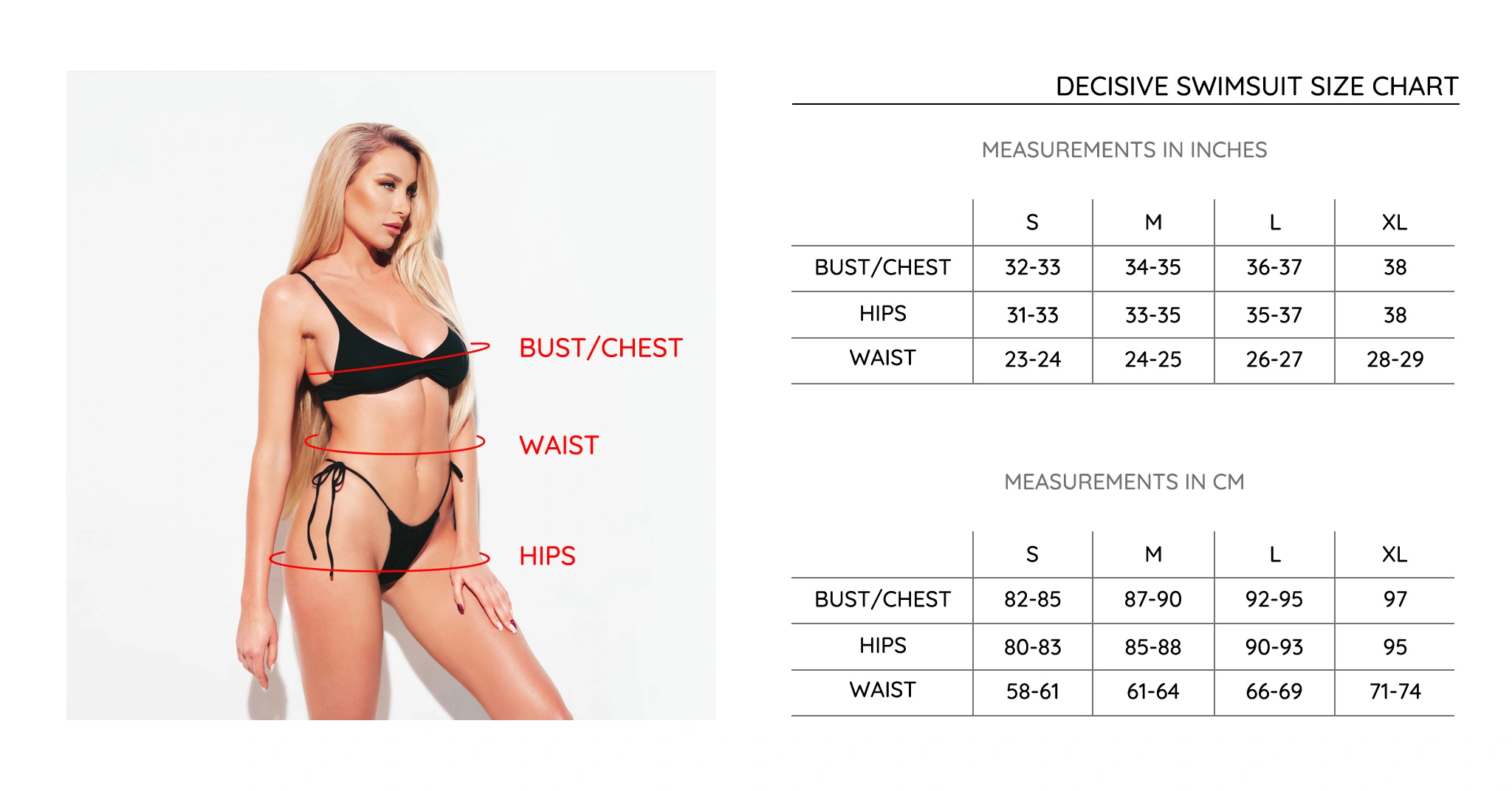 Complete swimsuit size guide (with calculator)
Sizing swimsuits and bikinis should be easy and effortless! On this page, we've collected all recourses you need to answer questions like what size swimsuit am I or how are swimsuits sized. We also provide extensive tables to convert swimsuit sizes from different regions as well as our unique swimsuit size calculator where you find out what size swimsuit you are in just a few clicks! 
Swimsuit size calculator
Introducing the Swimsuit Size Calculator – the ultimate tool for finding the perfect fit! With just a few simple inputs, our calculator uses algorithms to determine your exact swimsuit size, taking into account your body measurements and proportions.
---
---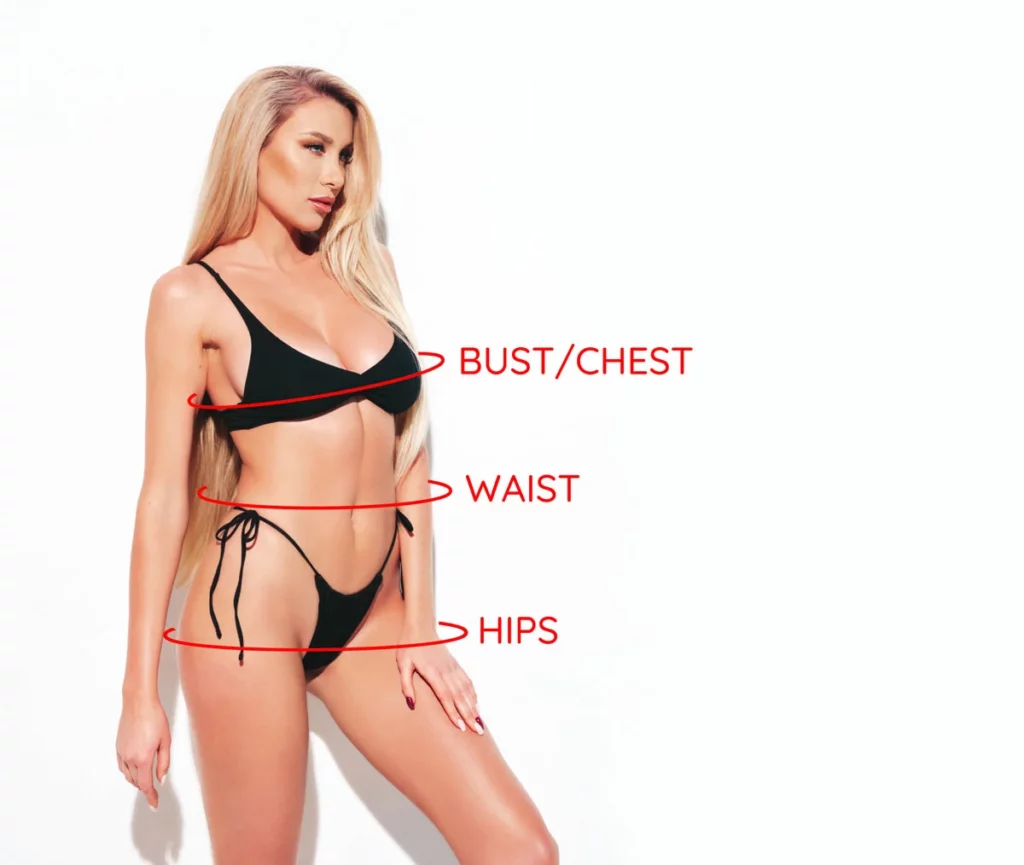 This innovative tool eliminates the guesswork and frustration of swimsuit shopping, making it easy for you to find the right size and style for your body. Whether you're a petite, plus-size, or in-between, our Swimsuit Size Calculator will help you find the perfect fit.
Gone are the days of trying on multiple sizes and styles, only to end up with a swimsuit that doesn't fit or flatter your figure. With the Swimsuit Size Calculator, you can input your specific measurements, including bust, and hips, and our tool will do the rest, providing you with a personalized swimsuit size recommendation. It's easy, accurate, and fast.
So why waste your time and money on ill-fitting swimsuits? Try the Swimsuit Size Calculator today and see the difference it makes in your swimwear shopping experience!
Converting US, EU, and AU swimsuit sizes (table)
Swimsuit sizes and body measurements, inches
| Swimsuit size | S | M | L | XL |
| --- | --- | --- | --- | --- |
| Europe | 34-36 | 38-40 | 42-44 | 46 |
| United States | 4 | 6 | 8 | 8 |
| Australia | 8 | 10 | 12 | 12 |
| United Kingdom | 8 | 10 | 12 | 12 |
| Cup Size | A-B | B-C | C-D | D-DD |
| Bust Size | 32-33 | 34-35 | 36-37 | 38 |
| Under Bust | 29-31 | 31-33 | 33-35 | 36 |
| Hips | 31-33 | 33-35 | 35-37 | 38 |
| Lower Hips | 35-36 | 37-38 | 39-40 | 41 |
Swimsuit sizes and body measurements, inches
Swimsuit sizes and body measurements, cm
| Swimsuit size | S | M | L | XL |
| --- | --- | --- | --- | --- |
| Europe | 34-36 | 38-40 | 42-44 | 46 |
| United States | 4 | 6 | 8 | 8 |
| Australia | 8 | 10 | 12 | 12 |
| United Kingdom | 8 | 10 | 12 | 12 |
| Cup Size | A-B | B-C | C-D | D-DD |
| Bust Size | 82-85 | 87-90 | 92-95 | 97 |
| Under Bust | 75-78 | 80-83 | 85-88 | 90 |
| Hips | 80-83 | 85-88 | 90-93 | 95 |
| Lower Hips | 88-91 | 93-96 | 98-101 | 103 |
Swimsuit sizes and body measurements, cm
What swimsuit size am I?
This is one of the most common questions we get from new customers looking to buy a new swimsuit. "What size swimsuit should I wear" or "what size swimsuit should I buy" are things we often hear as people don't buy swimsuits as often as other types of clothing and sizing might in some cases even differ between brands. 
How do you determine your swimsuit size?
If you are unsure of your swimsuit size, don't worry! There are many different ways to determine your swimsuit size. Some are more accurate than others but they all have their pros! 
The different ways to determine your swimsuit size are:
Measure your body
Use a swimsuit-size calculator
Go with your usual size
Try it on
Measure your body
Probably the most accurate way to determine your swimsuit size is to take your own measurements. These should then be compared to the size chart of the particular swimwear brand that you are looking to buy from. Most websites offer some form of a size chart letting you know what size your personal measurements correspond to. 
Use a swimsuit-size calculator
Using a tool like our loved [swimsuit size calculator] makes it super easy to know what swimsuit size you are. By simply entering your bust size as well as your hips size the tool calculates what swimsuit size is most likely to fit your specific measurements. 
Using a swimsuit-size calculator is a fast and easy way to get an estimate of what swimsuit size would work best for you. 
Try our swimsuit calculator here
Go with your usual size
In case the swimsuit sizes you are looking at correspond well with another closing size you have, you can be somewhat certain that this size will work well with a swimsuit as well. For example, your dress size vs swimsuit size might line up, then it's safe to assume you can go with the same size. 
Try it on
This might sound fairly obvious. And of course, this only works if you are shopping for swimsuits offline. But if this is the case you can simply ignore the sizes altogether and just try your way through until you find your perfect size. 
When it comes to determining the fit and comfort of a swimsuit, no tool or measurement can replace the experience of actually trying the swimsuit on. 
There are a number of factors that can affect the fit of a swimsuit, including the material, the cut, and the size. While measurement calculators and size charts can be helpful in providing a general idea of what size may work best for you, they are not always accurate and should not be relied upon exclusively. 
Ultimately, the only way to truly know if a swimsuit is a right fit for you is to try it on and assess how it feels on your body. This will give you the best idea of whether the swimsuit is comfortable and flattering, and whether it will be suitable for the activities you have planned.
Should I size up or down when buying a swimsuit?
Another question that we see a lot is if you are unsure or between sizes, should you size up or down with swimsuits?
Our general answer is that you should always size down when it comes to swimsuits. Swimsuits are elastic and will stretch, especially in water. However, if you go with a swimsuit that is too large for you it will be saggy and won't look good at all. That's why we always recommend going with a smaller size if you are unsure about swimsuits! 
How to know if your swimsuit is too small? 
Swimsuit sizing and body types
Naturally, different styles of swimsuits or bikinis will fit different body types better. That's why it's important to not only focus on getting the right size but also to figure out what swimsuit best fits your body type.
When it comes to choosing a swimsuit that flatters your body shape, it's important to understand that different types of swimsuit work better with some body types than others. Here are a few examples of common body shapes and the types of swimsuits that will flatter them:
Pear shape: Strapless bandeau tops are the ultimate beachwear choice for Pears. As well, padded bikini tops and push-up bikinis help to add definition to the upper body, while striking patterns, elaborate styles, and plunging necklines are all great for emphasizing your bust's natural curves.
Apple shape: The best swimsuits for Apple-shaped bodies are those that draw attention away from the waistline toward the chest, legs, and arms. Low necklines with supportive underwiring are the ideal figure-harmonizing combo.
Rectangular shape: If you'd like to attain a more feminine silhouette, opt for halter bikinis, triangle-style tops, and tank tops, or one-piece swimsuits with ruffles that create the illusion of curves. On the other hand, if you're looking for swimwear that flaunts what you've already got – you can essentially pick any swimsuit on the shelf!
Hourglass shape: There are some swimsuit styles that work great with an hourglass shape, such as belted one-piece swimsuits, low v-necks, or low-cut Brazilian bikini bottoms. 
Inverted triangle shape: Swimsuits that bring out the best in Inverted Triangles are those that add upper body volume while pulling attention away from the bottom half.
It's also worth to mention that everyone's body are unique, so these are just general examples, and you might find yourself fitting into different types of swimsuits that are not mentioned here. And ultimately, it's important to remember that confidence is key when it comes to rocking any swimsuit. So find one that you feel comfortable and confident in, and that's all that truly matters.
How are swimsuits sized?
Swimsuits are sized using a combination of measurements, including the bust, waist, and hips. These measurements are taken around the fullest part of the bust, the smallest part of the waist, and the widest part of the hips, respectively. 
Read more below for detailed instructions on how to measure yourself for swimsuits.
Once you have your measurements, you can use a size chart provided by the swimsuit manufacturer to determine your size. Keep in mind that size charts can vary between brands, so it is important to check the size chart for the specific brand of swimsuit you are interested in purchasing. Also, it's good to note that different styles of swimsuits may have different fitting, for example, a one-piece will fit differently than a bikini, or a swimsuit made from a stretchy fabric may fit differently than one made from a non-stretchy fabric.
It is also worth mentioning that swimsuits are not always true to size. Many people find that they need to go up a size or two when purchasing a swimsuit. This is because swimsuits are designed to be snug-fitting, in order to keep the swimmer streamlined in the water, therefore, if you are in between sizes, it may be best to go up to the larger size.
How are swimsuits sized in the US?
In the United States, swimsuits are typically labeled with numerical sizes ranging from 0 to 16, with size 8 often being considered the medium. To help you determine the equivalent size in European, United Kingdom, and Australian measurements, refer to the table provided below.
How are swimsuits sized in Europe?
In Europe, swimsuits are generally sized numerically from 28-42, where 36 are considered medium. 
The European sizes correspond with your chest measurement.  
Utilize the provided table to discover the comparable measurements with US, UK, and Australian sizes.
How are swimsuits sized in the United Kingdom?
The swimsuit sizes in the United Kingdom range from 8-16 where 12 is the medium. 
To aid in identifying the corresponding sizes in European, US, and Australian measurements, consult the table below.
How are swimsuits sized in Australia?
When it comes to swimsuit sizes, Australia generally follows the same sizing system as the United Kingdom. This means that the numerical sizes used for swimsuits in Australia are similar to those used in the UK.
When buying a swimsuit, it can be difficult to read the different sizing systems used around the world. Different countries usually have different ways to size clothing and swimsuits. 
In order to help make this process a little easier, we have created a table that allows you to convert swimsuit sizes from the United Kingdom, United States, Europe, Australia, and other international sizes. With this table, you can easily find the equivalent size in a different country, ensuring that you get a swimsuit that fits you perfectly.
Using the table is simple. First, find the size that you currently wear in your home country. Then, follow the row or column to the corresponding size in the country of your choice. 
For example, if you typically wear a US size 8 and want to know the equivalent in UK sizes, you would look for the "8" in the US column and then follow that row to the UK column, where you would find the equivalent size.
It's also worth mentioning that even with a table like this, there may still be variations between brands and manufacturers, and different cuts and styles may fit differently. 
How to take your measurements for swimsuits
To take your measurements for swimsuits, you will need a measuring tape and a friend to assist you (or you can use a mirror). Follow these steps:
Bust: Measure around the fullest part of your bust, making sure the tape is level and not too tight.
Under bust: Measure directly under your bust, where the band of a bra would sit.
Natural Waist: Measure around your natural waistline, which is the narrowest part of your torso.
Hips: Measure around the fullest part of your hips, making sure the tape is level and not too tight.
It's important to note that your measurements should be taken in your undergarments, or as close to what you would wear under the swimsuit as possible, without clothes between the skin and the measuring tape. And it is also important to have accurate and consistent measurements when you take your measurement, as it helps you to find the best-fit swimsuit for your body shape.
FAQs about swimsuit sizing
What are the standard swimsuit sizes?
The standard sizes for swimsuits are S, M, L, XL. However, local sizes exist for swimsuits in different regions. 
How do I determine my swimsuit size?
To determine your swimsuit size, it's best to take your body measurements and compare them to the size chart of the swimsuit brand you are looking at.
Can swimsuit sizes vary between brands?
Yes, sizes can vary a lot between brands. Make sure du check your size before getting a new swimsuit. 
How do I know if a swimsuit will fit if I can't try it on?
The best option is to measure yourself and consult the size chart for a particular brand. 
Is it better to size up or down in swimsuits?
We recommend sizing down if you are unsure when shopping for swimsuits.
Are there different size guides for different types of swimsuits?
Yes, different swimsuits and bikinis might be sized differently. Bikinis might be sized differently if they are sold separately or together as well.
How do plus-size swimsuits fit differently?
Plus-size swimsuits are not just larger swimsuits but it's rather made to properly fit a plus-size person. 
Can I use my dress size to determine my swimsuit size?
Yes, if the swimsuits use the same sizing as your dress this is possible. Otherwise, you'll have to convert your dress size to a swimsuit size with a size conversion table. 
What are the most important measurements for a swimsuit?
The most important measurements when buying a swimsuit is bust and hip measurements. 
I'll write about anything and everything related to swimwear!