?Men's swimwear trends 2018
Summer is just around the corner. A time for relaxing, enjoying the sun, drinking cocktails at noon and maybe a vacation trip or two. Whatever your plans are for this upcoming summer we know that you, like every man, want to look good while out in the sun. So here are this summers hottest trends at the beach.

Summer 2018 is all about colors. Whether it's your shirt, you shorts or your flip flops, color is the way to go this summer. Mix it up and don't be afraid to try something you normally wouldn't wear. After all, your going to the beach, not the office. Colors will elevate your personality and brighten your day. Another trend this year is patterns. And they are everywhere, on swim shorts, shirts, socks, you name it. Find something that fits your personality. A pattern that represents you!
After all, your going to the beach, not the office.
In the summertime you'll be out all day, maybe you are starting at the beach, having lunch at the café, a quick swim in the ocean and most likely ending up at the beach club. You want a pair of shorts that looks and feels great all day, wherever you end up.

Go with the trend of 2018, colorful shorts with patterns. Be the one that stand out from the crowd!
Confirmable swim shorts is a key for a sucesessfull day. Choose a pair with soft inner mesh and quic drying fabric so you can continue your day as you please. You don't want to be soaking wet at lunch. Wherever you are it's safe to assume that you'll bring at least your phone and some credit cards. Make sure this won't be a problem in your swim shorts. Chose a pair with sufficient amount of pockets so that you don't have to worry about bringing an extra bag.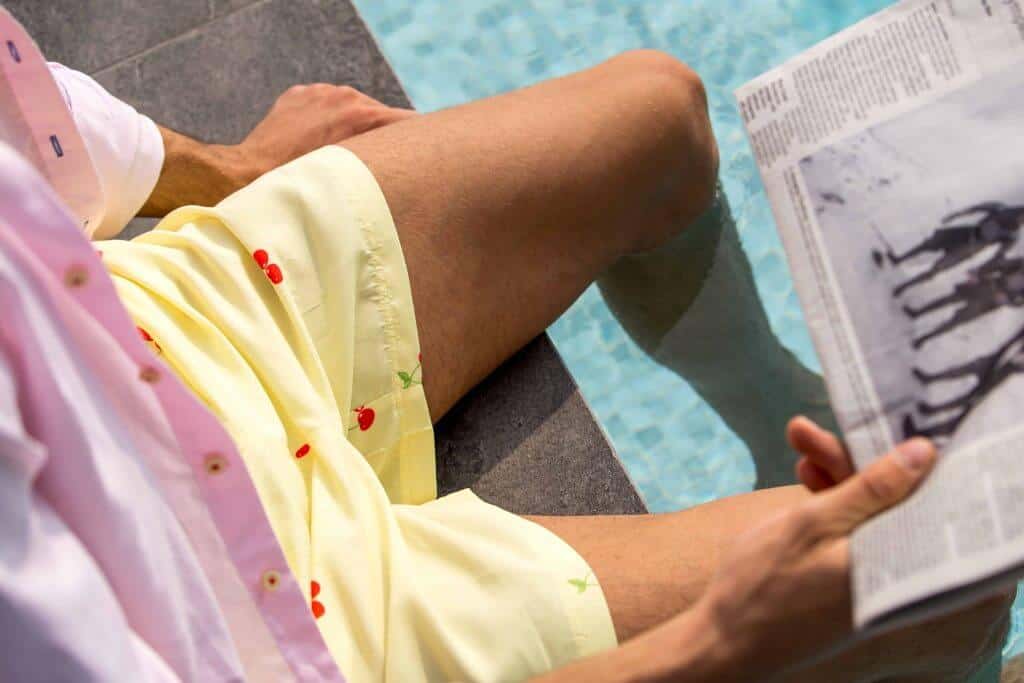 Don't be afraid to bring some of your more elegant shirts to the beach. Mixing it with a stylish pair of swim shorts and you'll look just as good at the beach as you do in the city. A pink or bright blue shirt will never let you down. However, if you have a colorful pair of swim shorts a white shirt with  will work just as well.
If you're going to spend most of your day by the beach, flip flops are to recommend. However, if your day might continue to a restaurant or a club you should go with a pair of loafers. Get a pair that goes in line with the rest of your outfit. Don't overlook the shoes just because your going to the beach. Later when you are dancing on tables your shoes will be essential!